UN asks PMW to publicize that UN was not behind Arab media campaign presenting terrorist as role model (PMW) Palestinian Media Watch) by Itamar Marcus and Nan Jacques Zilberdik 02/13/11) Source: http://www.palwatch.org/main.aspx?fi=157&doc_id=4641 PMW} PALESTINIAN MEDIA WATCH PMW} PALESTINIAN MEDIA WATCH Articles-Index-Top Publishers-Index-Top

In response to

Palestinian Media Watch´s report

on the Arab media campaign that presented terrorist Dalal Mughrabi as a role model for Arab women, and which listed UNFPA (United Nations Population Fund) as its partner and displayed its logo on the campaign´s website, the UN has asked PMW to publicize that the UN was not involved in the campaign.




Following PMW´s exposure of a video from the campaign, UNFPA issued a press release "disavowing" its involvement in the campaign. Writing to PMW, the organization said that it "would appreciate any kind action you (PMW) take as a result of this information."

The press release stated that UNFPA "had no involvement in the selection of women profiled in the ´White Hands Campaign´ of the Arab Producers´ Union for TV (APUTV), and [that UNFPA] has asked for its logo to be removed from the site."

As role models for Arab women today, the

White Hands Campaign

chose to promote the terrorist Dalal Mughrabi, who lead the most lethal terror attack against Israel, killing dozens, and a 7th century poet, Al Khansa, famous for celebrating the Martyrdom deaths of her children.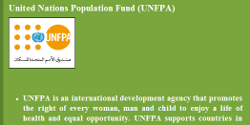 Today,

the White Hands Campaign´s

English website is no longer accesible, and the UNFPA logo no longer appears on the campaign´s Arabic website as it did last week, when PMW reported on the campaign´s video.

UNFPA added that the organization was "neither consulted nor involved in the selection of Arab women to be featured by the initiative, and it condemns any acts of violence that take the lives of innocent people. The Fund therefore disassociates itself from the campaign activities."

UNFPA further specified that the organization in 2008 had supplied the campaign´s organizers with "information and data on reproductive health and youth issues," but that it "provided no funding."

Click to see

PMW´s report on the campaign honoring women famous for terror and Martyrdom as role models The following is the email PMW received from UNFPA:


From: Abubakar Dungus

Dear Sir/Madam,
Please note the following statement from UNFPA on the subject of your post on the White Hands Campaign. Also note that the Campaign has removed our logo. Would appreciate any kind action you (PMW) take as a result of this information.

UNFPA Press Release
10 February 2011

UNFPA Disavows Involvement in Arab Media Campaign

UNITED NATIONS, New York-UNFPA, the United Nations Population Fund, had no involvement in the selection of women profiled in the "White Hands Campaign" of the Arab Producers´ Union for TV (APUTV), and has asked for its logo to be removed from the site. In 2008, UNFPA provided APUTV with information and data on reproductive health and youth issues. It provided no funding. More importantly, UNFPA was neither consulted nor involved in the selection of Arab women to be featured by the initiative, and it condemns any acts of violence that take the lives of innocent people. The Fund therefore disassociates itself from the campaign activities.

APUTV works under the umbrella of the League of Arab States, and through the Arab Ministers Information Council. UNFPA provided information to the campaign based on its longstanding cooperation with the League of Arab States, and working within its mandate to advance maternal health, promote gender equality and support population and development strategies.
http://www.unfpa.org/public/home/news/pid/7250


The following is the transcript of the video honoring women famous for terror and Martyrdom as role models:



Text on screen:
"The Model Woman"

Host of TV program:
"Woman is the foundation of existence.
Love - Ishtar - the symbol of fertility and altruism.
(Ishtar - Babylonian goddess)
Willpower - Cleopatra - wit and wisdom.
(Cleopatra - Queen of Egypt)
Intelligence - Balqis [and] Zenobia - fighting.
(Queens of Sheba and Palmyra)
Resolve - Al Khansa - Martyrdom and giving.
(7th cent. poet who celebrated her four sons´ deaths in battle)
Courage - Bint Al-Azwar - strong faith.
(7th cent. Arab poet who fought against the Byzantine Empire)
Martyrdom - Dalal Mughrabi - victory over enmity.
(led terror attack in which 37 Israeli civilians were killed)
Struggle - Djamila Bouhired - human freedom.
(Algerian terrorist who became a political activist)
Freedom, giving, patience, sacrifice, life, loyalty - "White Hands."
For her sake, for our sake, for the sake of a society aspiring towards giving - "White Hands" Campaign."
Text on screen:
"The largest media campaign to support women´s issues.



Return to Top

MATERIAL REPRODUCED FOR EDUCATIONAL PURPOSES ONLY

<! -- MAIN TABLE ENDS -->